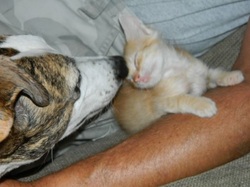 Ok. The picture in my first "story" post included my first buddy in the background. This is a picture of me and my next buddy...a/k/a "Mommy-Doggy".

Back to that first buddy: when the angel took me in she had also just taken "Mister" in. He was sick too. The angel rescued him, and, in fact, kept him on...he lives with her to this day.

Shortly after she had me feeling better and eating well she found me my forever home. You see my new parents had recently lost one of their furbabies. He was a neat guy by all accounts...but that's also another story. Anyway, they'd been pretty sad and the angel knew that, while I could never take his place, I could bring a new joy into their lives. The angel sent my mom a picture on the cell fon...she looked hard to find a picture that got my good side. Back then it was a little tough to get my good side...I was kind of a mess. That's why the angel's special person called me "Freakazoid".
The picture she picked must have been cute enough (I mean, how could it not be!). They wanted to meet me. The angel brought Mister and me to her office and had the peoplez come in to meet me. They fell in love...again, what's not to love! And when they took me to my new forever home, that's when I met m