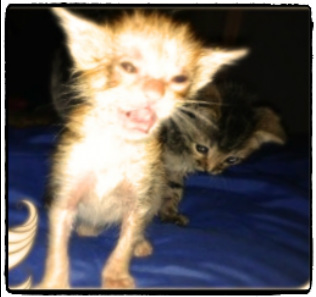 I guess I should start at the beginning. Or at least as close to the beginning as I can. I don't really remember too much about my first couple of weeks. I know I ended up alone. Alone and scared. And sick. Golly, I was so sick. I felt awful and I couldn't see very well. I didn't know anybody...didn't know where my mom or my brothers and sisters went. It was awful.

A nice woman found me. I don't even know where I was when she found me. But I know where she took me. She took me to the angel. The angel who rubbed me and warmed me up and fed me milk. I loved her then and I love her now.

The beginning is such a blur...but I do know that the angel made me feel better. I heard someone call her a vet. All I know is that she was lovely and I felt safe and warm and special when she held me. And I knew that everything would end up working out okay.

She took me everywhere with her. You see, I was so little that I had to eat every few hours. I was way smaller than other kittens my age were. And I was weak. And my hair stuck up funny. In fact, the angel's special person called me Freakazoid. But I didn't mind because I knew that with her help I was going to grow up to be somecat. Somecat special!